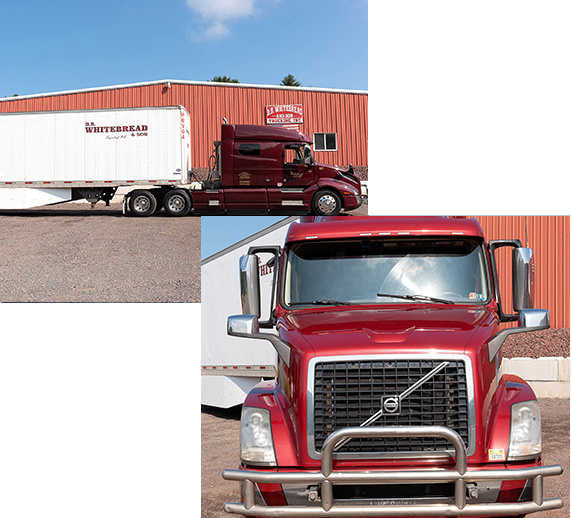 Donald Whitebread & Sons, Inc (Whitebread Trucking) is a regional niche carrier primarily serving the Northeast and New York City with full truckload flatbed and dry van service. 
After leaving the US Navy following World War II, Donald Whitebread and his wife, Gloria, farmed a plot of land in Sugarloaf, PA. By 1955, Donald and Gloria had a family of 4 children and a thriving produce farm. The wind and rain of Hurricane Diane in 1955 would change the trajectory of Donald's business plans. With the crops ruined by the storm he sought a new way to earn a living.
Donald found work as a tractor-trailer driver with a local freight carrier. He spent the next 3 years learning as much as he could about the trucking industry and plotting his next move. In 1959, with his tuned up old farm truck, Donald Whitebread started 
his own trucking company. At this time, he hauled building materials on select routes within Pennsylvania. Business was prosperous, and he expanded rapidly acquiring routes and operating authority throughout all of Pennsylvania and surrounding states. Donald's three sons each joined the venture as they became old enough to drive. By the early 1970's, with continued growth, the trucking operation needed a larger facility, and it moved to a new terminal in Sugarloaf, where it still operates. In the mid-2000's, facing a sharp increase in insurance costs and several other factors within the business, Donald B. Whitebread & Sons made the strategic decision to join West Motor Freight via a lease agreement. The business continues to operate under this agreement of mutual benefit today.
The Great Recession hit the flatbed market exceptionally hard. Fortunately, when the recession hit, Whitebread Trucking was positioned to adapt to the changing landscape. A gradual reduction in fleet size and an increased reliance on dry van business, cultivated prior to the recession, gave Whitebread the ability to weather the storm. Coming out of the recession the business invested heavily to modernize the fleet for improved safety and efficiency.
Today, the company is still in the family, with Keith as President and son, Justin, Vice-President.  We are focused on operating regionally in the Northeast and Mid-Atlantic with safety as our top priority.  Our dedicated team of drivers allows us to provide the best customer service in the industry.  It is our goal is to be your safest, most reliable transportation partner.  Please Contact us to work together on your next load.  
What People Think About Us